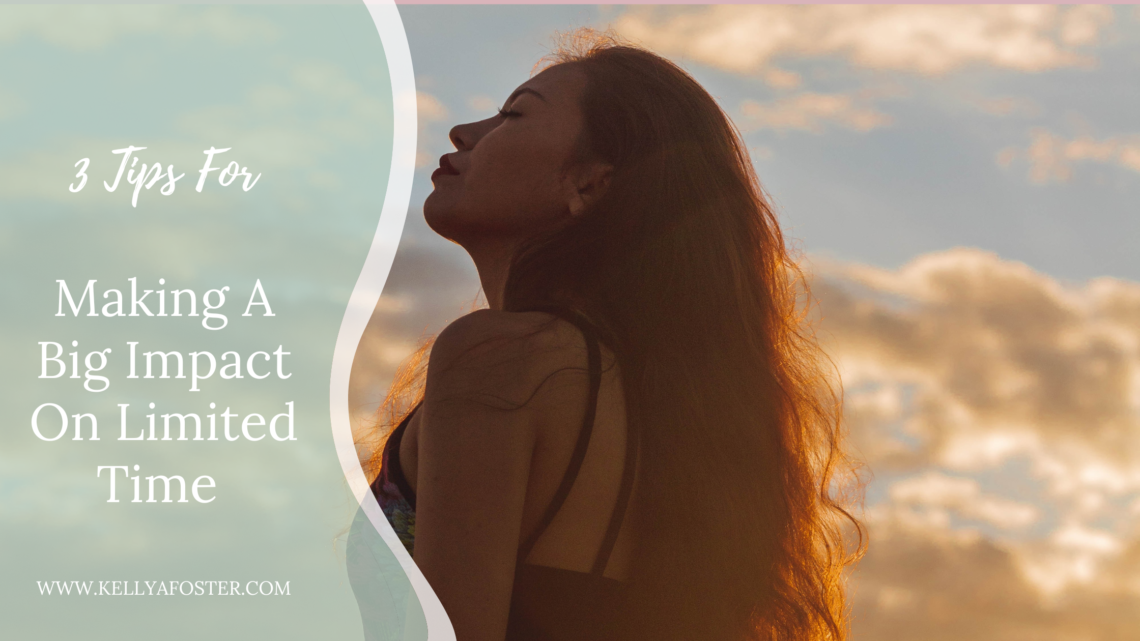 3 Tips For Making A Big Impact On Limited Time
Is the weekend be over already?! Ugh!
I ask myself this question every Sunday evening. Somewhere between dinner, the last minute load of laundry and bedtime I find myself puzzled at the fact that my weekend seemed to last only 15 minutes.
Have I accomplished anything?
Do my attempts even matter?
In an effort to seize this week, I gather my thoughts and try to prepare for yet another round of meal plans, homework time and self care if I'm lucky. Let's face it, some days as a mom I feel like a glorified taxi driver at best. Balancing motherhood & being a communicator adds yet another layer of complication to the schedule. After practices, appointments and deadlines some weeks I have so little time I barely get to communicate with my family let alone inspire others.
Can I really have a life of impact with my limited time?
The answer is a resounding YES! You have been equipped with every good thing you need to live out the life that God has blessed you with, and do it abundantly. Friend, you already have what you need. Furthermore, you can ask God for anything that you lack.
"Every good gift and every perfect gift is from above, coming down from the Father of lights, with whom there is no variation or shadow due to change." James 1:17 (ESV)
"And my God will supply every need of yours according to his riches in glory in Christ Jesus." Philippians 4:19 (ESV)
"The LORD will indeed provide what is good, and our land will yield its increase." Psalm 85:12 (ESV)
Do you have limited time? Yes, but your impact on the other hand is unlimited. God has the ability to take the little you have and multiply its impact and enhance its quality. It's like a refreshing power nap. Sometimes an intentional 15 minutes can be more impactful than one distracted hour. God is in the business of turning your lack into more than enough.
3 practical tips for being a woman of impact on limited time:
Embrace the moment: First, learn to pause and live for today or simply this moment. Be present. Laugh often. Skip the dishes. Let the dust lay. See beauty in the here and now. It's great to strive for better or more in life, however, if you don't learn to embrace the life you have now, you'll never fully enjoy any future blessings from God. Seek to be present over perfect. Not sure where to start? Begin with prayer.
Choose one thing: Second, decide to accomplish ONE thing each day. This is so powerful. That's it. It doesn't have to be big to make an impact. Don't make it complicated. Sit down for dinner with your family. Complete a devotional reading. Go for a walk. Pray for a friend. Give yourself permission to simply take one step in the direction you want to go. Remember it's not about being perfect or having it ALL together. Having a life of impact means being intentional about all the small things. It's the little ways you touch the lives of those around you every day; especially when you think no one is watching. Each little ONE thing matters.
Give yourself Grace: Third, every day is a new opportunity to try again. Modeling grace in your own life gives those around you permission to do the same for themselves. Be gracious to yourself when you make mistakes. Honor your journey by resisting the comparison trap. Refill your cup through intentional self-care activities. You've already come so far, so give yourself credit for that daily.
Though you may have limited time, the impact of living a life of contentment, intentionality and grace is unlimited. Above all, seeing God work through your weakness sends a powerful message about what it truly means to live a life of impact. It is such a blessing to know that you don't bear all this pressure alone. You have been equipped by God to live this precious limited life. It's ok to ask for the help you need while trusting God to make a real impact.
Next Steps: Scrap your To-Do list today and practice being present instead of focused on completing daily tasks. And remember, you got this!!

Have you read my 6-day devotional plan entitled "Finding R.E.S.T. While Learning To Embrace Your Imperfect Story"? It's available exclusively on the YouVersion Bible app.