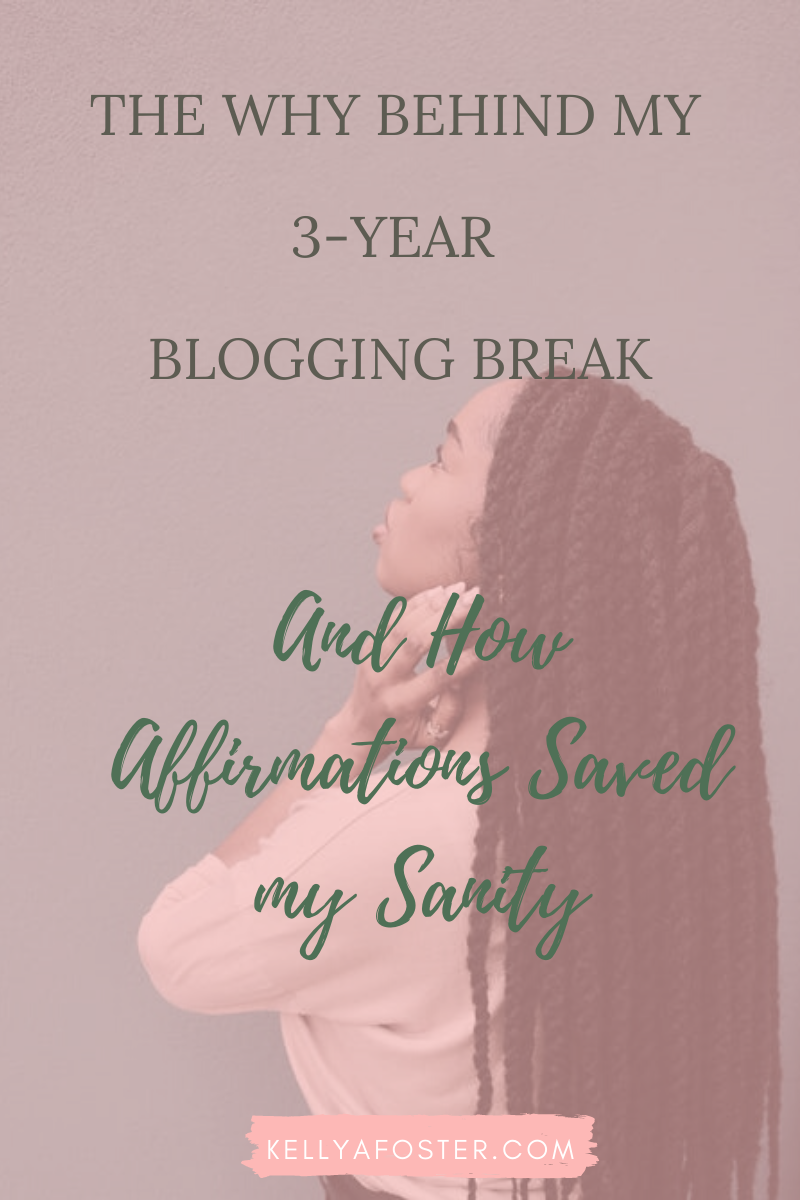 The WHY behind my 3-year blogging break and how affirmations saved my sanity
"One of the hardest decisions you'll ever face in life is choosing whether to walk away or try harder."

Ziad K. Abdelnour
Did somebody say affirmations?
Yes girl! I love a good 'ole affirmation. Something about reminding myself who I am just energizes me; especially when I let this world get me down. But wait, I'm moving way too fast. You came her for a story right? An update. The truth behind my hiatus. Ok, Ok, we'll get to those affirmations later. I love a good story myself, so here goes…
I started blogging in 2014. Imperfectly His was officially launched in January 2015. It was great. It was everything. God was moving. Then in 2017, I made an announcement and never came back.
As much as I love to write, when I began to put fingers to computer keys I couldn't find the words. I was looking for words to begin to express my feelings, my heart, my emotions behind this story. See, I've been wanting to share this story for a while now. I feel the quiet nudges of the Holy Spirit to press forward and to share. But again, the words just wouldn't come.
So here I am making a video.
WhooHoo for technology. Thank God for courage too. Sharing the reason why I stopped blogging all of a sudden is a huge hurdle. But it's one I'm excited to jump over because once I do this, I can move forward with everything God has already predestined in my life.
As you listen to my story, I hope you can see yourself. I hope that you can see the perseverance of a women who is no different than you. We are all at different parts of our journey and I hope in sharing and healing my stuff, I can provide a little light to those around me in the journey too.
Make sure you stick around to the very end of the video. I've put together a special resource just for you. Ok Ok, I originally made it for myself. Yep, it's personal to me. I have personally and privately used these affirmation cards to get through some tough times. These cards remind us of who we are in Christ. And sis, we could all use a little more truth!
If you just listened to that story, you're probably like dang girl that's a lot. Well friend you would be right. Going through challenges in your life will pull something out of you. Pressure applied can either crush you, or it can turn you into something beautifully different. Look at the grapes and that bottle of wine in the fridge. I bet those grapes didn't know just how amazing they were until someone came along and applied pressure. They are crushed to provide that relaxing glass of wine with dinner. The same goes for us too.
God doesn't leave us. He doesn't allow us to go through trials so we can be ruined. But we have to let him use those terrible moments to move us to purpose. So, you can't get rid of me just yet. God has so much more work for me to do! I'll be here until God says otherwise.
Now let's get back to those affirmations I used friends:
BTW, my oldest daughter who is now 12 (OMG) has been helping me with my content. Gotsta {the art & science of having to} put these kids to work! So if you enjoyed that video thumbnail, that's her work:)